Vesna Vlatkovic awarded the best PR Manager in the Balkans
Balkan Alliance of Hotel Associations (BAHA) awarded Vesna Vlatkovic, PR and Marketing Manager of A HOTELI, the prize "The Best PR Manager in the Balkans" " at the ceremony held in Hotel Mona Plaza on February 19.
The announcement states that this award is presented for the long and successful career in public relations and complete dedication to hotel industry that Vesna started 10 years ago by joining A Hoteli, where she is still working with the same enthusiasm, promoting the most luxurious hotels in Serbia.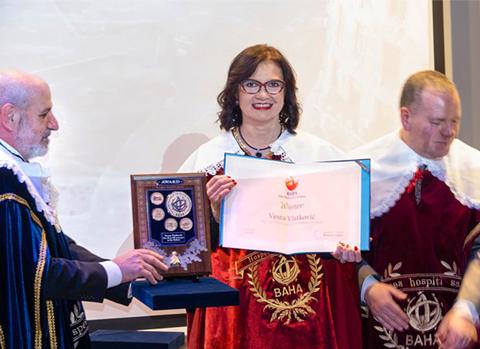 Vesna Vlatkovic thanked all those who have been her sincere support, both professionally and privately and contributed to this respectable international award. However, she expressed special gratitude to BAHA, for traditionally completing their mission in hotel industry, by recognizing true values and encouraging hotel employees to work hard to improve quality, by presenting them valuable awards.
© 2017 A HOTELI. All Rights Reserved. Powered by HSS.