"Zlatibor charter" presented to Miroljub Aleksić, Alco group president
Recognitions and awards for individuals and companies that achieved impressive results in their areas of business, in the previous period, were presented at the ceremonial meeting of the Municipality of Čajetina, on the Municipality day-June 30.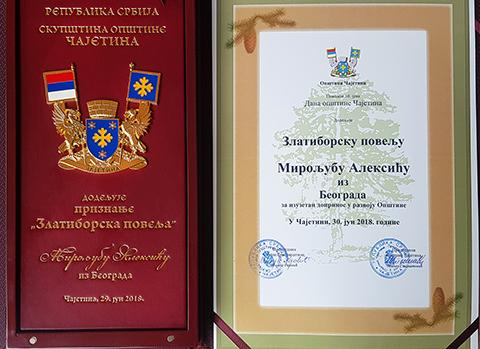 "Zlatibor charter" for exceptional contribution to municipality development was presented to Miroljub Aleksić, president of the Alco group, who opened Grand Hotel Tornik-the largest hotel in Zlatibor and the only 5 star hotel in this area, earlier this year. Grand Hotel Tornik received its first guests on June 1, 2018, while the other part of this resort-Hotel Tornik Sky is expected to be opened in autumn. Capacity if this complex is 357 rooms and suits with over 2000m2 congress centre, attractive wellness centre (2.250 m2), restaurants, bars, large terrace with panoramic view on Zlatibor peaks, revolving restaurant and a heliport.
© 2017 A HOTELI. All Rights Reserved. Powered by HSS.