Hotel "Izvor" awarded a press star
Prestigious five star hotel "Izvor" was given the sixth star- the "PRESS STAR" award. In the survey named "We are looking for a hotel for a PRESS STAR" conducted among journalist by redaction of Tourist World magazine for modern hotel business, a decision was made to award hotel Izvor Arandjelovac with authentic 5th pillar award- the PRESS STAR. This press award is given for overall quality of offer and service, hospitality and cooperation with press in 2012.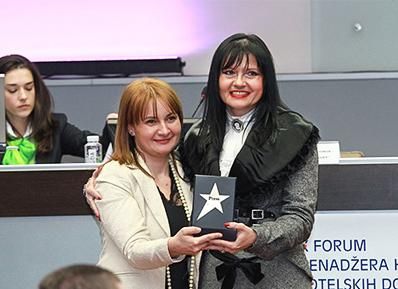 PRESS STAR was presented to Vesna Vlatkovic, A Hotels PR&Marketing Manager in 9th International Forum of Hotel Managers and Hotel Households', held in Serbian Chamber of Commerce on November 23. Mrs. Vlatkovic gave a witty statement that hotel "Izvor" received 10 valuable prizes, but that the "Press star" gave it possibility to become the only six star hotel in Serbia!
© 2017 A HOTELI. All Rights Reserved. Powered by HSS.