Hotel "Izvor" won the award for the best hotel in Serbia on the World Tourism Day
On the ceremonial opening of 45th International Fair of Tourism in Novi Sad, National Tourism Organization of Serbia awarded the TOURIST FLOWER recognitions. Hotel Izvor in Aranđelovac was proclaimed the best hotel in Serbia. On the same day Hotel Izvor won the 2012 Cup of the Novi Sad Fair for quality, for second year in a row.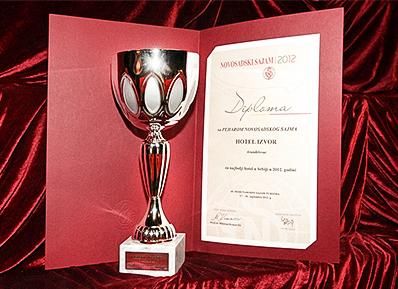 This 5 star hotel with its appearance and facilities won not only the guests, but the public as well. Affordable luxury offered is equally affordable for domestic guests and foreign ones, individuals, couples, families or businessmen holding seminars or congresses.
Bukovicka banja is becoming a well-known destination on Serbian tourist map, because after the reconstruction of Hozel Izvor it acquired the level of service according to world's highest standard, which will also be applied to recently bought objects-The Old Edifice, Šumadija hotel and Arcade restaurant. A new hotel will be built where old pool originally was and all investments are planned to be finished in seven years.
© 2017 A HOTELI. All Rights Reserved. Powered by HSS.