Hotel "Izvor" won the award "Ambassador of Good Service"
VIII Forum of hotel managers and hotel households was held on 24.11.2011 in The Serbian Chamber of Commerce, organized by SCC Tourism and Catering Department and Editorial board of trade journal for modern hotel business and tourism "Turistički svet" ( "Tourist World"). Theme of this years' forum "Sector room-the generator of successful promotion and sales" gathered together prominent university professors, hotel consultants and managers of hotels with international reputation.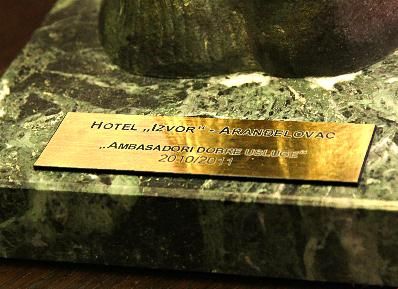 Forum had its culmination in the award of unique prize to the most successful hotel household team - "Ambassador of Good Service" in the category of large tourist and catering facilities, which was awarded to hotel "Izvor" in Aranđelovac.
Save
Save
© 2017 A HOTELI. All Rights Reserved. Powered by HSS.