The economic Summit 100 business leaders of Southeast Europe was held in hotel "Izvor"
Summit of 100 business leaders "A new deal for a new age", designed to start a dialogue among the business and political elite of the region, with a focus on stronger connections and removing the obstacles to better cooperation, was held on 6-8 October 8, 2011 in hotel Izvor, Aranđelovac.
A two-day summit gathered together more than one hundred businessmen form Serbia, Croatia, Slovenia, Bosnia and Herzegovina, Macedonia, Montenegro, as well as the president of Serbia Boris Tadić and the president of Slovenia Danilo Tirk.
The president of the Serbian Association of Managers, Bojan Radun, accentuated the importance of presence of Serbian and Slovenian presidents, as well as high political officials, pointing out it added to the importance of the event.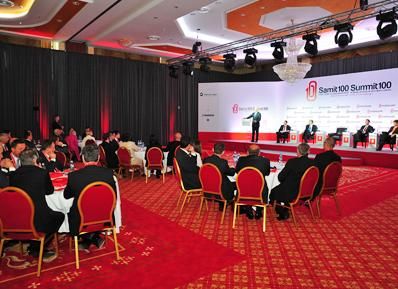 The president of Serbia, Boris Tadić, stated that national and regional resources need to be activated and that the region needs to have better connections.
"Without any purpose to revive Yugo-nostalgia, I have to assert the fact that our economies have not estranged that much, so that we cannot think of acting together on third markets", the President said to the members of "A new deal for a new age" panel.
President Tadić gave an example on Serbo-Croatian relations, by explaining that regional political cooperation needs to be reciprocal, meaning that it is neccessary to open the door for the free flow of investments.
Business leaders conveyed a message to the presidents that they believe that the door of politics shall be open for new and constructive ideas from the world of business.
© 2017 A HOTELI. All Rights Reserved. Powered by HSS.