A HOTELS at Practice and Employment Fair KORAK 2017
Second Practice and Employment Fair KORAK 2017 was held on Friday, March 24, 2017 at Singidunum University, organized by Centre for Career Development and supported by Student Parliament of Singidunum University. More than 40 prominent companies and institutions dealing with information technologies, finances, tourism, hotel industry, auditing, marketing and other business fields, participated at this fair.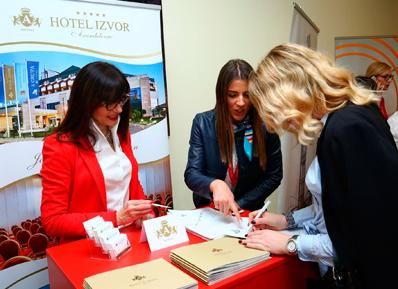 A Hotels chain was among the participants and gave chance to the youth interested in practice or employment in tourism, to present themselves and make contacts with the representatives of hotels Izvor, Sloboda and Master.
During the ceremonial opening of the fair, Vesna Vlatkovic, PR and Marketing manager of A Hotels, held a lecture to high school pupils, students and bachelors, where she pointed out the importance of practice, communication and networking.
We hope that this year's fair will result in employment of many young people and that they will a have a chance to obtain adequate training and experience through practice in all business fields.
Save
Save
© 2017 A HOTELI. All Rights Reserved. Powered by HSS.