"A Hotels" successful appearance at 37th International Tourism Fair in Belgrade
First Serbian hotel chain "А Hotels" had a very notable and successful appearance at 37th International Tourism Fair in Belgrade. We held notable meetings with President of Municipality of Arandjelovac-Bojan Radovic, President of Municipality of Vrnjacka Banja-Boban Djurovic and other representatives of local self-government. Hotel "Izvor" General Manager Dragan Todorovic has signed a Protocol on cooperation with Arab ASADEKA Business club, as a part of Serbian Royal Spas project realization.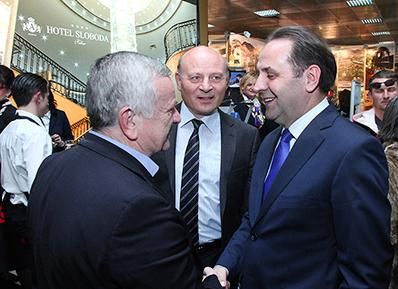 On the opening day, we were honoured with visits by Aleksandar Vucic-Prime Minister of Serbia, Rasim Ljajic-Deputy Prime Minister and Minister of Trade, Tourism and Telecommunications and Sinisa Mali-The Mayor of Belgrade who were hosted by ALCO group President Miroljub Aleksic, with whom they had friendly and constructive conversation.
Just before the Fair started, hotel "Sloboda" Sabac was officially opened, thus arising interest among visitors. Hotel "Izvor" Arandjelovac, officially the best hotel in the Balkans, had various package deals at promotional prices, while garni hotel "Master" from Novi Sad once again attracted attention of business clients. Media representatives showed interest in the end of construction of hotel "Tornik" at Zlatibor, as well as for construction start of hotels "Old Edifice" and "Sumadija" in Arandjelovac. PR and Marketing Manager, Vesna Vlatkovic gave numerous interviews and statements to interested media.
Save
Save
© 2017 A HOTELI. All Rights Reserved. Powered by HSS.