Hotel "Izvor"-A decade of successful operation
Completely renovated and appended Hotel "Izvor" Arandjelovac opened its doors to guests more than 10 years ago. Just a reminder: after the most successful privatization by auction in hotel business in Southeastern Europe in 2003, this hotel was invested into more than 33.000% more financial resources than previously agreed upon. During the reconstruction and appendage, surface of the old hotel was doubled, 9ha complex was arranged, along with building the infrastructure used by all citizens of Arandjelovac today.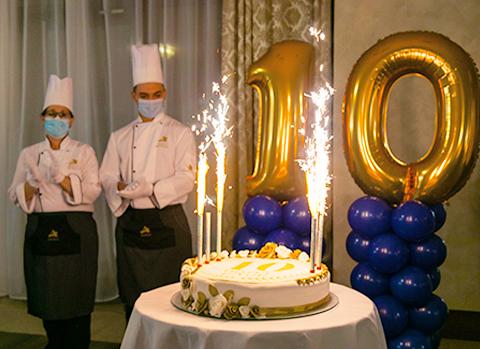 Hotel "Izvor" welcomed its first guests on November 26, 2010, members of an international assembly organized by "European Candy Kettle Club"- an association gathering the most prestigious producers in confectionary industry. "Pionir" received the award for the best producer for 2010, while Miroljub Aleksic was presented the award for the Best Manager in confectionary industry.
Hotel "Izvor" has received more than 30 domestic and international awards for successful operation over the past ten years, while its facilities were used by approximately one million guests. It is one of top congress and Spa&Wellness hotels in the region and also a part of the first domestic chain of luxury hotel – A HOTELI group.
Due to the epidemiological measures, the jubilee was not celebrated, but all guests were served a jubilee cake.
© 2017 A HOTELI. All Rights Reserved. Powered by HSS.