Chef of hotel "Izvor" becomes "Russian Cuisine Ambassador 2017"
Chef of hotel "Izvor" Mr Bozidar Zivkovic, together with his colleague Mr Milan Nedeljkovic, won the competition in preparation of Russian cuisine dishes held on November, 03 in restaurant "Pozicija" in Vracar, organized by Russian House, Belgrade.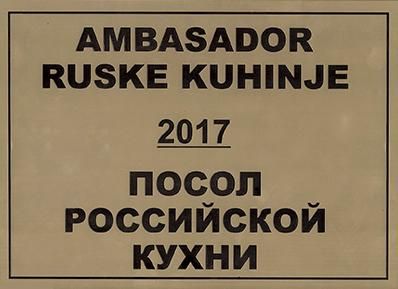 Six teams competed, and in opinion of a visiting professional Russian cook the best specialties were made by the team of hotel "Izvor" from Arandjelovac. They prepared a Russian Salad with Chicken, by an authentic recipe, as well as a Russian Salad with Salt Marinated Salmon, Sugar in Dill, and traditional Russian Soup "Solyanka".
Mr Boza Zivkovic, the chef, was awarded a board indicating that the restaurant of hotel "Izvor" is the Russian Cuisine Ambassador as the first prize, as well as a 7-day stay in Russia, where he is going to do specialization in preparation of Russian dishes next year, all at cost of Russian House.
© 2017 A HOTELI. All Rights Reserved. Powered by HSS.