Two employees of the "A Hotels" Group received prestigious awards at the XII Forum of hoteliers
At the XII Forum of hoteliers, which was organized by the travel magazine "Turisticki Svet" and held on November 19th in hotel "Radisson Blu Old Mill" Belgrade, even two staff members of the "A Hotel" Group received prestigious awards.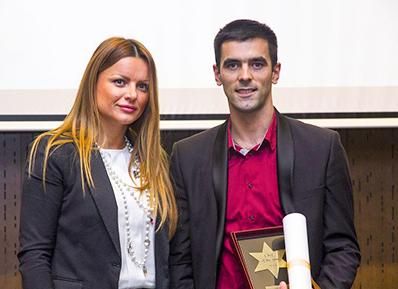 Aleksandar Rankovic, Manager of Patisserie within Hotel "Sloboda" in Sabac, was awarded the prize of "Chef of the Year 2015", whereas, Katarina Milivojevic, Manager of Wellness & Spa Center of Hotel "Izvor" in Arandjelovac, was awarded the "Wellness Manager" prize, which was awarded for the first time this year..

The expert jury also awarded other prizes to the leaders in the hotel and tourism industry. As in previous years, the Forum of hoteliers brought together many distinguished guests, representatives of the hotel industry, related industries and the academic elite. Vesna Vlatković, Marketing & PR Manager of "A Hotels" gave the first public presentation of the elite hotel "Tornik" on Zlatibor, the largest hotel project of the company "Alco Group" in 2016.
Save
Save
Save
© 2017 A HOTELI. All Rights Reserved. Powered by HSS.