Hotel Master received the "Success Champions" award
Traditional Quality Forum, organized by Quality Austria Center d.o.o was held on Friday 21.04.2017 in hotel "Zlatnik" Zemun.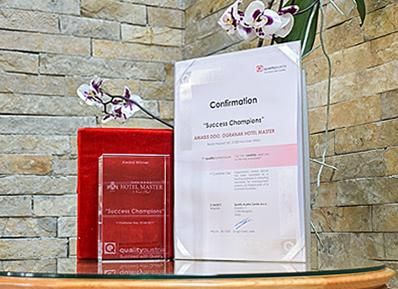 Seventh Quality Austria Forum has gathered more than 100 participants and this year, for the first time, clients with extraordinary success in standard requirements implementation have received "Success Champions" rewards. Garni hotel "Master" from Novi Sad, operating for seven years, as a part of A hotels chain, is one of the award winners.
Award ceremony was held during the Forum part "1st Customer Day" and the winners shortly explained some of the benefits gained by management system certification.
Save
Save
Save
Save
Save
Save
Save
Save
Save
© 2017 A HOTELI. All Rights Reserved. Powered by HSS.