Miroljub Aleksic, Alco Group CEO, has received "Ambassador of Quality Service" 1st class order for the investment of the year-Grand Hotel Tornik in Zl
XV Forum of Hotel Professionals was held from November 23-25, 2018 in Grand Hotel Tornik Zlatibor, organized by "Turisticki Svet" magazine and supported by The Ministry of Trade, Tourism and Telecommunications, Chamber of Commerce and Industry of Serbia and Singidunum University. Hotel industry professionals and their partners were presented for the 13th time, elite awards "Ambassador of Quality Service"-a sort of an "Oscar" of the hotel industry in Serbia and the region, at the gala ceremony.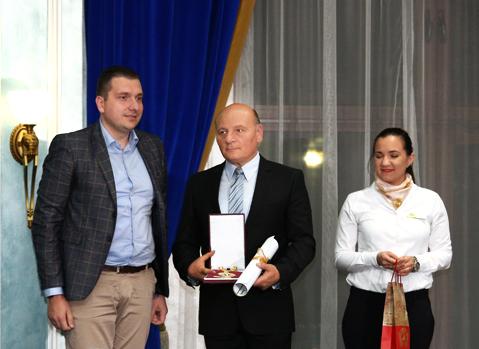 Laureate of the highest award in the hotel industry in Serbia "Ambassador of Quality Service" 1st class order for THE INVESTMENT OF THE YEAR 2018 is Miroljub Aleksić, ALCO group CEO, for Grand Hotel Tornik at Zlatibor. This investor, sort of a hotel industry visionary, has been achieving a part of his business dreams in Serbia, luckily for all of us, while making new standards in our hotel business, which are not falling behind the world ones. Grand Hotel Tornik is part of the first Serbian hotel chain "A Hoteli", along with "Izvor" Arandjelovac, "Sloboda" Sabac, "Master" Novi Sad and "Park" Vrnjacka banja.
© 2017 A HOTELI. All Rights Reserved. Powered by HSS.