Successful presentation of the "A Hotels" chain at the 38th International Fair of Tourism in Belgrade
The first Serbian chain of hotels, "A Hotels", yet again had a very successful presentation at the International Fair of Tourism, held for the 38th time in Belgrade.
On the day of the opening ceremony, we were honored by the visit of the Prime Minister of the Republic of Serbia, Mr. Aleksandar Vucic, as well as the visit of the Deputy Prime Minister of the Republic of Serbia and Minister of Trade, Tourism and Telecommunications, Mr. Rasim Ljajic, the Mayor of Belgrade, Mr. Sinisa Mali, who received a warm welcome by and had a constructive conversation with the President of ALCO Group, Mr. Miroljub Aleksic.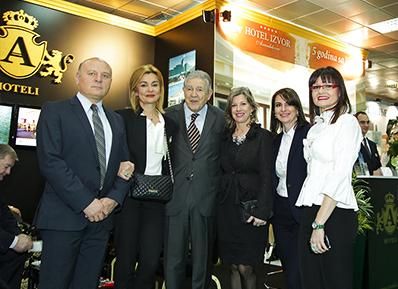 This was a fine opportunity inform the distinguished guests, business partners and interested visitors about the five-year anniversary of the hotel Izvor in Arandjelovac, the first year of successful operation of the hotel Sloboda in Sabac, and to promote newly opened conference and seminar room at the hotel Master in Novi Sad, but, first of all, to announce the opening of the hotel Tornik on Zlatibor, eagerly expected by the general public..
We believe that we also managed to conquer new foreign markets and that our offer motivated foreigners to consider Serbia as their destination, and that our promotional packages were an incentive for domestic guests to spend the forthcoming holidays with us as well.
Save
Save
Save
© 2017 A HOTELI. All Rights Reserved. Powered by HSS.